"It all happens in a fun and safe atmosphere. You will enjoy your voice, build confidence and move closer to your goals you set for yourself…I have been taking lessons from Nancy for a number of years. I love the motivation I feel when taking lessons. If you are on the fence...just do it! You will be glad you did!" —Michele
Getting Started:  If you'd like to schedule a free consultation to learn more about taking voice lessons with Your Voice Coach, please complete the intake form on this page.
After I've received your completed form I'll contact you to schedule a mutually convenient time and location. The goal of the consultation is to allow both teacher and potential student to get a feel for each other's personalities and to discuss any questions or concerns that you might have about taking private lessons.  

Studio Hours and Location: In person lessons are available on Saturdays & Sundays from 11:00 AM to 4:00 PM.  I also teach by Skype during the week at various times.  Location is Lafayette.
Studio Policies:  24-Hour Cancellation Notice, Student Portal & Payment Process.
If you need to cancel please provide 24-hour notice, otherwise 
you'll be responsible for paying for the lesson: nrwalk@gmail.com or 518.577.8377.

When you register you'll be provided a login to the student portal, it is the student's responsibility to reserve/modify/cancel lessons through the portal.  Students will also access notes, tracks and handouts
through the portal.

All lessons are private unless otherwise arranged:
* 45 minutes for younger singers aged 10 -13 @ a rate of $45.00
* 60 minutes for singers aged 14 and up @ a rate of $60.00
When you become a regular student on my schedule each month, you will be asked to pay + pay forward. You'll pay for the first lesson as well as the following lesson that you're committing to on my schedule - this means you'll pay every other lesson.
24-hour cancellation notice
Reserve/Modify/Cancel lessons and access tracks/handouts through the student portal
Lessons are paid in cash (PayPal or Venmo accepted for Skype students)
All students will acknowledge their understanding of the studio policies by signing the registration form.

Gift Certificates are available.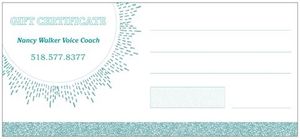 Sign-up for a Free Consultation